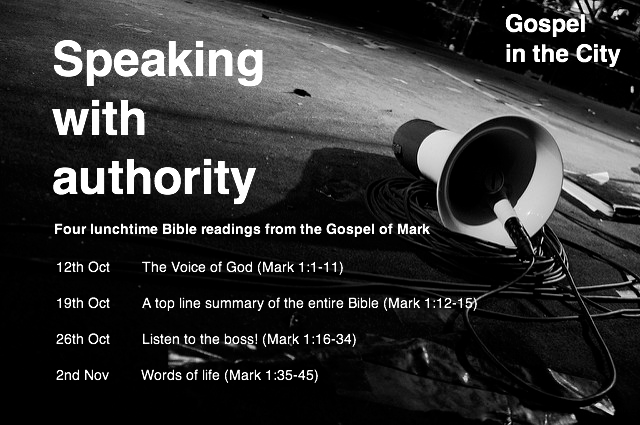 Some people, and some messages, seem to command a hearing. For most of the last two thousand years, in most of the world, Jesus and his message of the good news of God have created just such a response. The gospel writer Mark tells us that at the beginning of his public ministry Jesus went into Galilee saying "The time is fulfilled, and the kingdom of God is at hand; repent and believe in the gospel" (Mark 1:15).
In the crowded religious marketplace of 1st century Palestine, Jesus was immediately recognised as a uniquely authoritative voice. Since then few people have felt able to ignore Jesus' message. But perhaps in Belfast today we find it harder to understand exactly why the people who first heard Jesus asked themselves, "What is this? A new teaching with authority!" (Mark 1:22)
In this series of four lunchtime Bible readings in the first chapter of Mark's Gospel, we're aiming to go back to those heady early days of Jesus' ministry and see for ourselves what it was that made Jesus and his gospel so compelling.
12th Oct  The Voice of God (Mark 1:1-11)
19th Oct  A top line summary of the entire Bible (Mark 1:12-15)
26th Oct  Listen to the boss! (Mark 1:16-34)
2nd Nov  Words of life (Mark 1:35-45)
Speakers:
Sam Bostock (Gospel in the City)
Moore Casement (Cornhill Training Course, Belfast)
Martyn Cowan (Union Theological College, Belfast)
Join us upstairs in Caffe Nero on Fountain St (1 min from City Hall), 1:10-1:40pm, for lunch, a reading from Mark's Gospel and a short talk. Sandwiches are available (suggested donation £3).